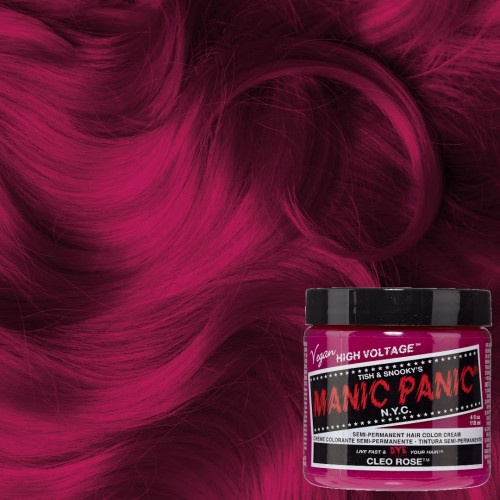 The Manic Panic Classic High Voltage range never fail to offer the absolute best and most stunning results! The brand is one of the most famous brands across the world for it's unique and stunning colours, being long lasting and entirely vegan friendly. They've been lighting up the hairstyles of alternatives for decades.
Created using entirely PPD free materials, and ensuring they remain entirely vegan friendly this hair dye is suitable for everyone.
Usage Instructions
Manic Panic produce absolutely brilliant dyes, however in some rare cases it can go horribly wrong if the dye is not applied correctly. We've found our customers have the best results with these dyes when they apply the following procedure:
Always remember to do a strand and patch test to ensure the colour is compatible, and ensure you don't have allergies!
For the best and brightest results ensure you bleach your hair to at least level 9 or 10 (Nearly White) before applying any dye. This is super important if you have naturally dark hair.
It is important to apply the dye to clean (shampooed but not conditioned) dry hair, if you're hair is wet, dirty or contains any products with chemicals prior to application, it may cause a bad result! Clean your hair, without heavy chemicals.
Always wear gloves and brush your hair before attempting to use any dyes.
When applying the dye, make sure each strand is fully saturated. This could require working it into the hair with gloved hands and combing it through.
Optionally, if you'd like to avoid dye stains around the hairline apply a Vasaline or a small amount of baby oil, but don't let this get in your hair!
You don't need a lot, but ensure you apply enough mixture for your hair length
Apply the mixture evenly and thoroughly your hair
The longer the dye is left in your hair the better! Gentle dyes such as Manic Panic can be left in for hours and even overnight to result in a more intense colour without damaging your hair.
Get hot! Apply some heat with a hairdryer! Heat allows the cuticle of the hair shaft to open and better absorb the colour.
Never towel dry! Always use a hairdryer to dry your hair.
Always rinse the hair with cool or cold water after first application! This will lock in the colour!
Once the dye has been applied, ensure you wait a few days before washing your hair for the first time!
Typical Duration & Ensuring Your Dye Survives
Manic Panic's temporary dyes typically last up to 6 weeks (or if you're lucky, longer) and you can extend the length of time your hair will stay dyed by washing your hair less frequently or using dry shampoo or PH neutral shampoo's such as baby shampoo instead.
Any harsh shampoos such as anti-dandruff, anti-ageing, or cleansers designed for oil removal, or any product which contains alcohol, sulfate and sodium. Additionally try to avoid washing your hair too frequently. Frequent washing will cause faster washout, which will result in faster loss of colour.
You should avoid swimming in chlorinated water, most harsh chemicals run the risk of washing out your newly dyed hair quickly and causing your hair to become less vibrant.
View Usage & Care Instructions
Hide Usage & Care Instructions
Hair Dye
Duration
4-6 Weeks
Ingredients
Vegan Friendly, PPD Free
Style
Classic Semi-Permanent Hair Dye
Volume
118ml

Cleo Rose - High Voltage® Classic Hair Color (118ml)
Brand: Manic Panic
Product Code: MP-HV-CLEO
Availability: In Stock
Delivery: Free UK Delivery (3 to 4 Days)